Posted by

Preferred Insurance

on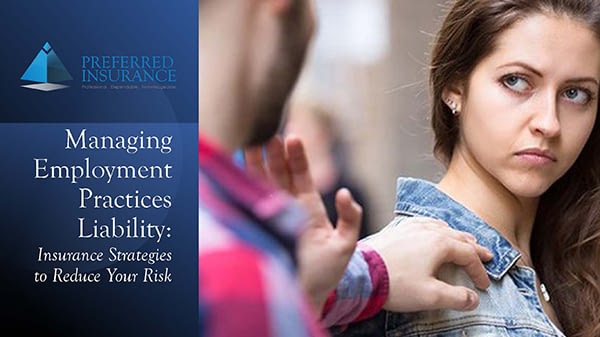 Register for our webinar on Monday, February 27 at 10:00am. Learn what you need to know about employment practices liability issues and insurance. Hear from experts in the field and get answers to your questions.
Register in advance for this meeting. After registering, you will receive a confirmation email containing information about joining the meeting.
Presenters
Dan O'Leary, Partner, Preferred Insurance Services, Inc.
Dan joined Preferred Insurance in the spring of 2010 and today holds the title of partner at the firm. He acts as primary liaison, team coordinator, and dedicated account executive to a diverse number of clients in the DC Metro area. He leads client services for large commercial companies in the areas of technology, not for profit, construction, restaurants, and property management. Dan currently holds several insurance designations and is a Certified Insurance Counselor (CIC).
TJ Woodridge, Vice President, Preferred Insurance Services, Inc.
TJ specializes in designing insurance policies for well-managed restaurants in the DC metro area and is the leader of our Restaurant Practice Group. He is an active member of the Restaurant Association of Metro Washington and the Restaurant Association of Maryland. In addition to his insurance expertise, TJ stays up to date on current restaurant industry trends and safety issues. TJ can provide expert insight on restaurant insurance and risk management.
Matt H. Sorensen, Partner, Cameron McEvoy PPLC
Matthew H. Sorensen focuses his practice on the areas of labor and employment law and commercial litigation. Mr. Sorensen has successfully defended businesses and executives in numerous employment-related disputes in state and federal courts throughout the United States. He has extensive experience defending individual and class lawsuits involving wage and hour, discrimination, retaliation, and "whistleblower" claims. He has also litigated numerous cases involving non-compete agreements and other employment-related contracts.
Filed Under: Restaurant Program